Telenor Maritime at Europort 2021
Meet us 2.–5. November in Rotterdam
Telenor Maritime at the international exhibition, Europort 2021, 2–5 November, 2021 in Rotterdam.
Telenor Maritime is in HALL 3 at stand 3201 at Europort 2021. 
The connectivity world is changing
The telecommunication environment is changing rapidly: New Low-Orbit-Satellites are launched as we speak, 4G/LTE GSMA networks are upgraded globally to 5G and the Wireless Broadband Association (WBA) launched Wi-Fi 6.0 enabling roaming. So how is this impacting our maritime sector?
Connectivity is provided at higher speed, with lower-latency at affordable cost allowing secure transport of data and communications from ship to shore. 
In the midst of this ever-changing environment Telenor Maritime is providing connectivity to facilitate the digitalisation on-board via cloud hosted platforms to the office environment.
Our via secure managed connectivity is used by millions of guests and crew members on board Cruise, Ferry, Fishery, Offshore and Merchant vessels.
To support the demand for near-shore mobile connectivity, via mobile networks, we provide antenna's modems and sims. Combined in one solution or stand alone. With Telenor Maritime you are in good company, for now and in the future! 
Europort 2021: Free trails
Meet us in HALL 3 at stand 3201 at Europort 2021. Or sign up below to get started!
Free trials 100GB/Month
Ours customers belong to worlds most famous and largest fleets. Can we welcome you on board as well?
Sign up for free trails (100 GB/Month free EU usage) and start benefiting from low cost/ reliable global connectivity now. 
Free trial opportunity with WaveAccess Collect
Enabling secure and efficient operations by providing global access to data WaveAccess Collect is an end-to-end solution where data signals are collected directly from on-board equipment and systems. The collected data can be used directly on board or transferred to shore over the Telenor Maritime's near-shore connectivity solution, or other backhauls.
Providing higher accuracy of locational data
Navigational signals are gathered from an additional
GPS antenna of the near-shore connectivity solution
Graphical user interface to visualize the data
Learn more about the free trial options for WaveAccess Collect and near-shore connectivity solutions!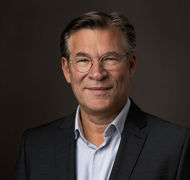 Gerrit Jan Konijnenberg
Director Strategic Development
+352 621 595 957
View full profile