Unified Hosting Service™
Onboard data-sharing platform
A data-sharing platform allowing anyone to benefit from digitalisation on board – driving innovation for a greener and more sustainable maritime industry.
Open data available across equipment and vendors/suppliers
Ease of adding more applications that bring value
Ability to see data across ships and do fleet optimalization
Easy way to report on environmental, social and governance goals for carbon emissions
More frequent remote inspections to lower costs and increase safety
Lower costs of installation, running of and deploying new versions of the application
Increased value, giving the vendor higher stability, security and resilience of their solution
UHS® is a platform for innovation and digitalisation, that enables cost savings and a more secure infrastructure. The platform collects data from IoT sources on the ship and enables integration between shore and ship.
How does the UHS® work?
The system, UHS®, collects data by using the vessel data collector that integrates according to class societies cyber requirements. The Vessel data collector integrates towards the bridge and engine control system or other preferred systems. It collects and standardize the data into an ISO format. After collecting, the data is sent to the onboard Unified Hosting Service™. This is a middle ware software layer that can host different microservice applications. In addition, the UHS® is a hosting platform for existing legacy systems. It integrates data from different ship-board systems into a common data storage and add metatags to the data according to maritime naming rules. The data can then be shared in the same way as in a land-based ecosystem.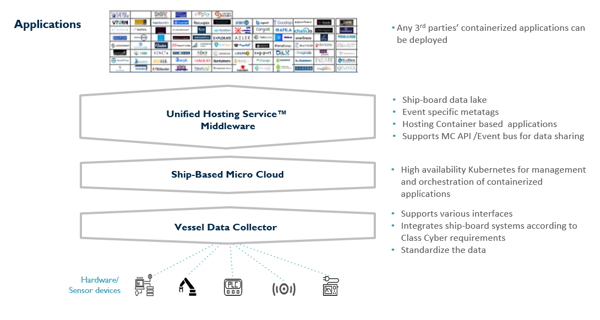 Examples of how it will work/ what it can be used for
One application that can be used through the UHS® is a safety risk assessment application. This set up will support safety and increase the safety when operating the vessel. Before the vessel entering the port the Captain and the Chief engineer can, in real time, communicate through the Safety Risk application, running on the Unified Hosting Service. The Safety Risk Assessment application is a Digital Checklist where the Crew are reporting Operational status in real time. The Digital Checklist are verifying various pre-defined parameters securing a safe arrival.
Another application that can run on the UHS® is collection of data to the MRV report which is used to comply with International Emission Regulations. The application will collect navigation data combined with cargo and fuel consumption logs and this can be used to calculate CO2 emissions pr voyage.