WaveAccess Collect
Global - Secure - Always on
To enable secure and efficient operations by providing global access to data.
WaveAccess Collect is a managed service that enables you to collect, process and share, transmit, and store  vessel data. It is an end-to-end solution where data signals collected directly from on-board equipment and systems can be used on-board or transferred to shore over a dedicated WaveAccess radio mesh network or other backhauls. All this is carried out by using uncompromised security standards all the way.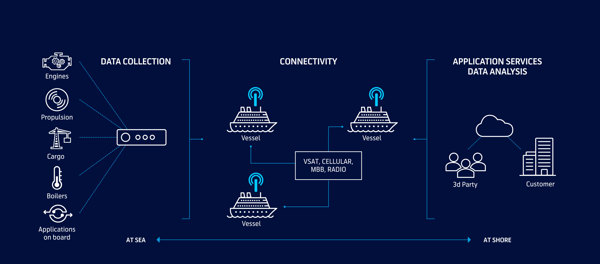 WaveAccess Collect
The Wave Access is a solution fully hosted remotely by Telenor Maritime and consists of 4 steps:
Collect: build the data pipeline to all fleets' assets, vessels or platforms with one scalable solution. The collect unit uses flexible signal collection framework that are able to connect data from any digital source e.g. automation systems, navigation equipment, cargo system and monitoring alarms.
Process and share: The system will preprocess the data, harmonize it, and make it ready for sharing in the format suitable for you. It will process the harmonized data forward and make data available locally, for on-board applications through pre-defined API, or sent to shore. All done in accordance to high security standards. The collected data is owned by the vessel owner.
Transmit: Send data to shore wherever the vessels are, whenever they need. Data can be transmitted through different back hauls such as HF radio, VSAT, Cellular or mobile broad band.
The connectivity at the ship can be used for transmitting or can provide the ship with connectivity. There is also possible to use a dedicated radio link as a new dedicated, channel, not intervening with existing channels and gives a reliable, secure connectivity
Store and enable: Data collected on board are sent to our data center on shore. From here we share data to whom you prefer so that you can use data to gain competitive advantage by improving efficiencies and utilizing economies of scale.

Easy to install, NOC 24/7 and monitoring and maintenance done remote
WaveAccess Collect is easy to install and can be installed by the crew. Configurations, updates, and commissioning can be done remotely. The monitoring of the system is possible to do remote and our network operation center will always be at your service handling questions and monitoring 24/7.
Telenor Maritime provides a unique solution for digitalising the maritime. We have performed hundreds of installations in maritime sector and are experienced in scaling services
The WaveAccess has a subscription-based model tailor-made for your vessels.
WaveAccess Collect can be integrated to any interface on-board and data can be shared to any application trough pre-defined API according to data owner requests. Both interfaces, hardware and software are in accordance with high security standards. IMO standardized output, ISO-19848 ISO-19847 and ISO 27001 as company security standards