The history of Telenor Maritime
Established in 2002 as MCP
Telenor Maritime is today a truly global connectivity provider at sea, with a strong presence in maritime digitalisation. It all started as Maritime Communications Partner (MCP) in 2002.
Early years
In 2002, Maritime Communications Partner (MCP) was founded in Grimstad, Norway by a handful of creative, forward-thinking engineers who conceived the idea to provide communications to the maritime industry, a relatively new market for connectivity with huge potential. With a clear business plan and a vision to deliver 2G and 3G wireless communications through GSM and CDMA technology to international cruise and ferry vessels, they proceeded to structure their offering and their team.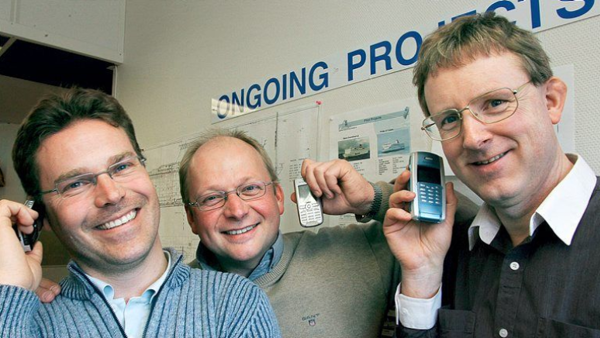 The Founders Knut Fjellheim, Trygve Sten Gustavsen and Alf Aanonsen posing for the photographer in the early days
At the beginning, MCP's main shareholders were Telenor, Ugland AS and Ltd companies, and the three co-founders. The team focused greatly on developing their technology, gaining regulatory approvals, finding a credible shipowner for their pilot, signing roaming partners, as well as recruiting key personnel to their team.
In 2003 the company, located in Grimstad, a traditional maritime, coastal town and centre for maritime technology and activities, had approximately 20 highly skilled and enthusiastic employees. Many of whom had backgrounds from the Swedish telecommunications company, Ericsson, which had recently downsized its activities and workforce in the region.
Driven by their vision to be the leading provider and operator of global cellular services for the maritime industry things started to come together. In that year, the first live call over satellite was successfully carried out and in 2004 the first contracts were signed with DFDS and Stena Line, two of the largest ferry operators in Europe. At this time, our owner Telenor acted as the primary partner for delivery of satellite bandwidth for our wireless communications.
In 2005 a great milestone was achieved when MCP was awarded a prestigious innovation award "Nyskapningsprisen" from NHO (The Confederation of Norwegian Enterprise).
In 2006, Telenor acquired the remaining shares in MCP and became our sole owner. We established an office in Miami, USA to strengthen our presence there and better serve our new customers in the cruise industry. In Norway, MCP relocated to Telenor's offices in Arendal, also a traditional maritime town, with close proximity to our roots in Grimstad. In the same year, numerous new fleets were signed and business was steadily increasing.
Expansion and technology
The most notable expansions to new markets, and workforce and product offerings occurred in 2013 when MCP entered the offshore oil and gas market, in 2015 with the acquisition of departments in Telenor Maritime Radio and their portfolio of fishing vessels, in 2016 with the acquisition of SatPoint AB, a Swedish company providing satellite communications and IT services, and in 2020 with KNL Networks, a Finnish company delivering satellite-independent communications with military-grade security.

Rebranding
In 2016, MCP was rebranded to Telenor Maritime to better reflect our increasing communications portfolio and to strengthen our brand as a leader and innovator at sea, as well as our association to our owner, Telenor, one of the largest mobile operators in the world.
Awards and accolade
Through the years we have won awards for our technology, and contributed greatly to regulatory standards and whitepapers through our membership at GSMA. We have held our position at the forefront defining and developing secure connectivity standards for the maritime industry. We have expanded our coverage by signing key roaming partners, and provided futureproofed, tailored connectivity and services to many brands.
Today's Telenor Maritime
Today, Telenor Maritime has over 120 employees, and is headquartered in Arendal, Norway with local offices in Europe, Asia and North America. Serving in excess of 100 shipowners, we are an ITU-certified global mobile operator with over 400 roaming partners, connecting 30 million people through more than 500 installations on vessels, and offshore platforms and rigs worldwide.