ANEK Lines
Digital passenger experience in the Mediterranean
ANEK Lines is one of the largest passenger shipping companies in Greece. It operates passenger ferries, mainly on Piraeus-Crete and Adriatic Sea lines. The collaboration between Marinos Nomikos, the IT Director at ANEK Lines, and Telenor Maritime, puts ANEK Lines at the front-line of digital passenger experience in the Mediterranean.
Marinos Nomikos, IT Director at ANEK Lines:
– At ANEK Lines we put our passengers first, their satisfaction and loyalty are key to our business. All our services, from our essential back-office applications to the wi-fi network on board are reliant on high-speed 24/7 connectivity. A strategic connectivity partner must be highly dependable and at the forefront of technology for the maritime industry. We believe this is true of Telenor Maritime.
Telenor Maritime mobile and wi-fi service are on board all ANEK Lines' passenger ships. The connectivity platform will balance traffic between satellite and the mobile network when in range.
– The last year has shown us that we must also be flexible, as well as creative, and Telenor Maritime has the agility and in-house competence to adapt to situations that suddenly arise - whether it be a pandemic when accessible and affordable wi-fi and mobile services are critical for the wellbeing of those on board or an urgent installation for a newly deployed vessel.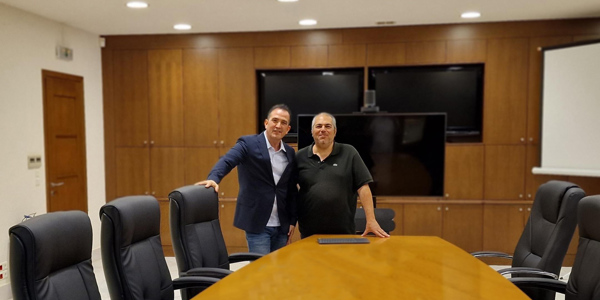 Henrik Lindqvist, Telenor Maritime (to the left) and Marinos Nomikos, ANEK Lines (to the right)
Since 2007, the IT Director has been on a journey to elevate the passenger experience:
– Most recently, we have collaborated with Telenor Maritime to pilot an exciting new interface for the wi-fi service on board our vessels. The interface, Telenor Maritime's Service Portal, will make it easier for our passengers to choose a wi-fi package suitable for their needs, as well as access entertainment and information about the ship, destination and on-board activities. This is a great opportunity for ANEK Lines to interact with the passengers and the possibilities for brand loyalty are endless. The passengers are a perfect audience, they are on board our vessels and have time to invest.
ANEK Lines was the first company to install the Connectivity Platform in Greece, positioning ANEK Lines as a digital frontrunner in the Mediterranean:
– My working relationship with the team at Telenor Maritime is great; I trust in them to be at the top of their game and welcome the opportunity to pilot new technology and services that will enhance our passenger's experience while travelling on board our fleet.